Event Hours
(1)
Friday

1:00 pm - 2:00 pm

Survey of the local arts scene with JoEllen Schilke.
If you are in downtown Tampa, bike or walk over to Ashley Drive to see this cheerful display, thanks to the wonderful Kathy Gibson & F.E.Lykes Foundation. 

This week's show is musically where we are at right now
for better or worse. xoxox
Here is some information about advocacy for artists, arts organizations, arts businesses, educators, et al on a call for economic aid from the Americans for the Arts.
I am so worried about the economic impact of this pandemic, especially for those who have worked so hard but don't have a lot of a safety net. Please start using resources as they become available. If you would like to advocate for arts relief, or any type of policy or relief, to your Representative, click here to contact them; here for contacting your Senator; here for Governor Ron DeSantis; Florida House contact; and finally the Florida Senate, here. The arts should be part of every stimulus package. Let me know if you have any ideas about what will help locally, regionally, nationally, globally! [email protected] 
From the Hillsborough Arts Council:

On March, 27, 2020 the U.S. Senate passed the Coronavirus Aid, Relief, and Economic Security Act (CARES Act), which is a stimulus bill that includes a loan program called The Paycheck Protection Program (PPP).
Who is eligible?
Here are the types of businesses that can apply for PPP:
A 501(c)(3) with fewer than 500 employees

An individual who operates as a sole proprietor

An individual who operates as an independent contractor

An individual who is self-employed who regularly carries on any trade or business

A small business with fewer than 500 employees
There are additional business types available too, please see complete list by clicking stay informed.
How does it work?
The PPP is a partially forgivable loan that is used to cover short-term operating expenses during the economic crisis. The loan funds must go towards payroll cost, costs related to group health care benefits, employee commissions and tips, interest on mortgage obligations, rent, utilities or interest on other debt, incurred prior to obtaining the loan. Calculate how much you can recieve and view more details by clicking stay informed.
How do I apply?
Local banks will be able to process PPP loans and any interested businesses are encouraged to contact their bank to begin the process. Any business with additional questions on this or any other COVID-19 business assistance programs can contact the Hillsborough County SBDC team or call (813) 204-9267.
Also an excellent list from the HAC of resources for artists, arts organizations, and small businesses is here.
Art in Your Ear will have some music shows coming up for you!
Playing some 1930s goodies for you this week. oxoxox
Because of the pandemic, we aren't having guests in the studio, and phone interviews about art with multiple people never seemed good to  me. So we will play some great music and spoken word stuff, and have some good talks as well. 
There are some resources you can use to support all of the arts and many types of artists, and definitely some great art based distractions if you are stressed, social distancing, both, or other fun stuff. There are already some streams posted on the Art in Your Ear Facebook page.
If you are a theater fan, you can stream Broadway and other plays and musicals here, and there is a free 7 day trial membership. 
On the Boards has more experimental types of performances, and they are free through April!
And one of the best collection of artist interviews is always Art 21. They have such a fantastic range of videos, and great articles.
There's much more than books on this link but that is what I mainly use if for. I've been reading all of the classics I missed (Emma right now). It is an amazing resource (though you can also use it to watch Plan 9 from Outer Space!).
I'll add more stuff as I come across it. Please take good care of yourselves and others. Call any older person you know who might be alone and feeling a little lost and overwhelmed, or send them a card. xoxoxo
Last week Steven Kenny came in to chat about art!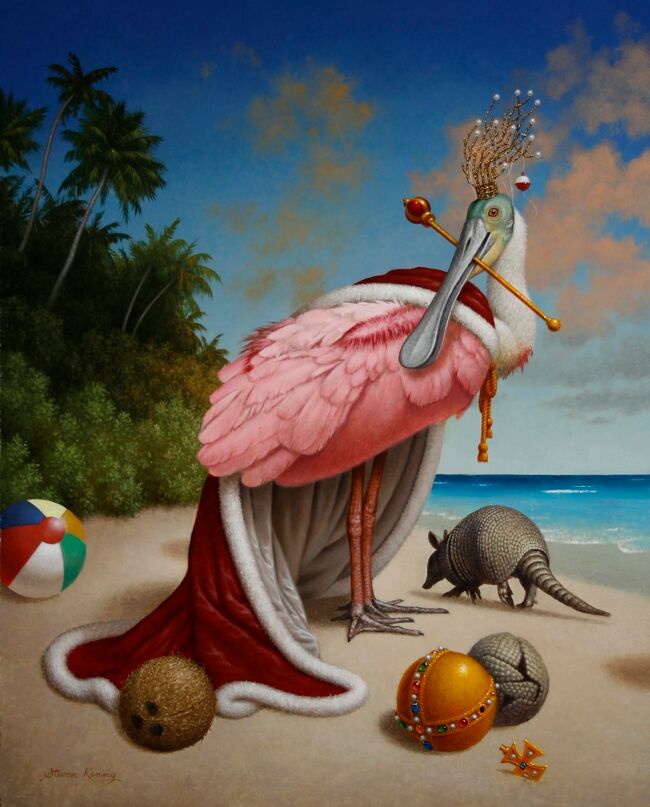 And here is a lovely photo by the legendary Clyde Butcher
*************************************************************************************************************
A good resource for y'all –  Artists!