Thanks for tuning into Art in Your Ear.
We are a weekly interview program, chatting with local, regional, national, and supersonic creative makers of things and ideas. We have a freeform playlist. To get in touch, please email [email protected].
Thank you to Creative Loafing for giving Art in Your Ear a Best of the Bay Award!
This week ~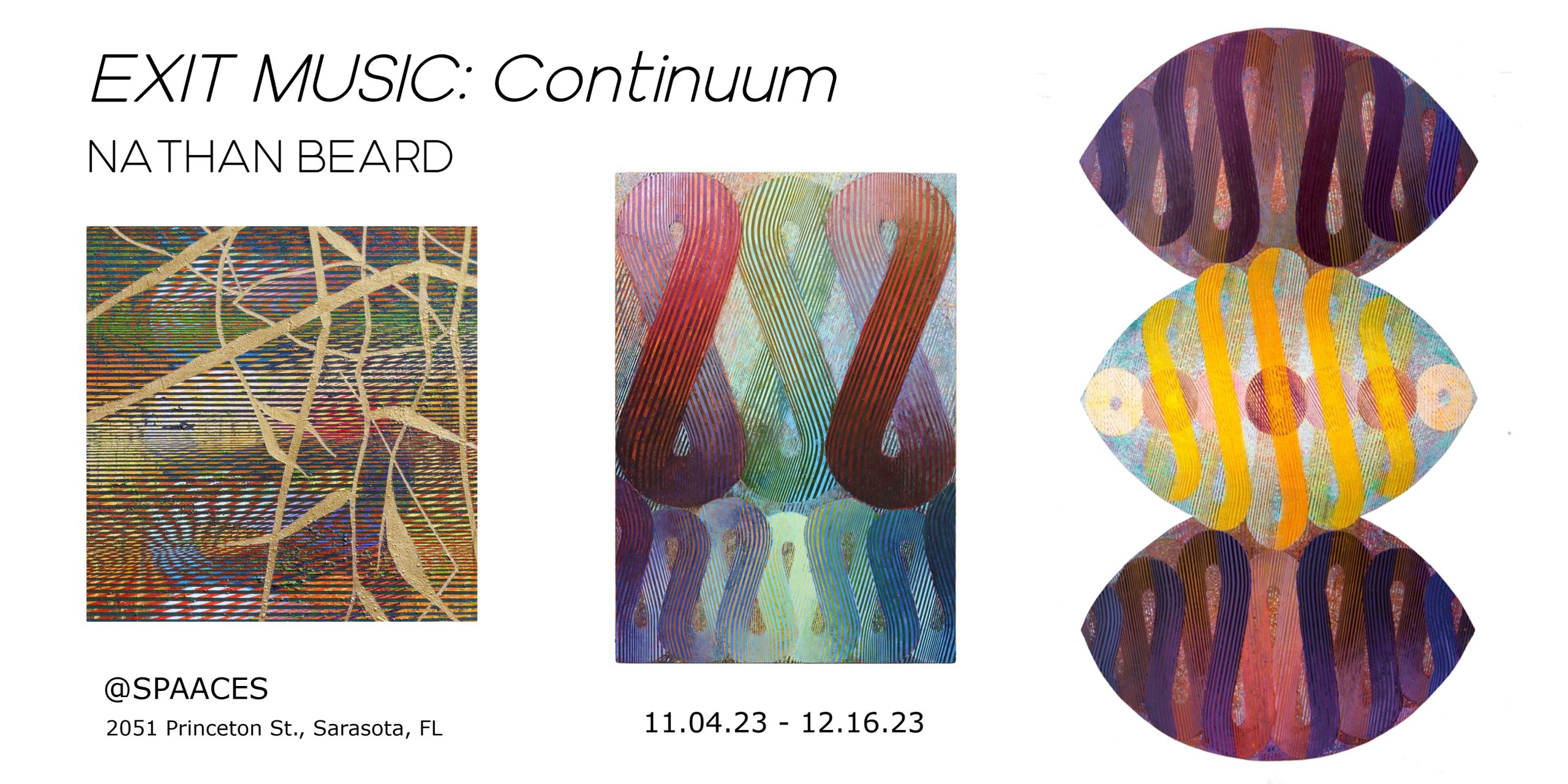 Artist Nathan Beard & SPAACES
Founder Marianne Chapel Junker
Artist Nathan Beard and SPAACES founder Marianne Chapel Junker in to talk about contemporary cutting edge work here on the edge of the world.
Past Shows:
Curator Emily Kapes put together an amazing show looking at the role of Chinese immigrants and Chinese Americans in the early West, onward to today. Really interesting show and lots to talk about.
Jorge Vidal, Nick Reale, & Florida Craft Art
The Florida Craft Art Festival sprawls around downtown St. Pete this weekend. Jorge Vidal took over the leadership of Florida Craft Art earlier this year, and we are going to chat about all of the related things. Nick Reale is an amazing woodturner.
Past Shows:
Construct Destruct Restruct ~ Frank Strunk
Robert Margouleff & Jade Dellinger
Revolutionary producer Bob Margouleff and author and curator Jade Dellinger join us to talk about Bob's impact on music. TONTO Expanding Head  Band (done after producing an Edie Sedgewick movie!!!) led to working with Stevie Wonder on his most creative set of music in the 1970s, which led to many other bands, which led to DEVO.
There is a show at the Bob Rauschenberg Gallery devoted to DEVO's 50 years of existence, The Beginning Was the End. You can listen back to this fascinating man!
Arts2Action & VETERAN COMMUNITY OPEN MIC CELEBRATION
Art2Action's Artistic Director Andrea Assaf and playwright Linda Parris-Bailey will be in to talk about the Veteran Community Open Mic and so much more.
Dr. Julie Buckner Armstrong & Learning from Birmingham
Happy to welcome Julie back to Art in Your Ear. 'As goes Birmingham, so the nation goes.' the Reverend Fred Shuttlesworth told Dr. Martin Luther King Jr. Her new book, Learning from Birmingham, explores all the crossroads of history, personal and public; civil rights and alt rights; what we see and what we miss. If you want a preview of what we are going to chat about, here are a few posts she did while she was researching Birmingham.  Holley's art, Civil Rights Trail, and Bombingham. Julie will be chatting with Eric Deggans at Tombolo Books on Wednesday, September 6. Her birthday!
We also will be speaking with Hillsborough County Commissioner Pat Kemp about the current proposal to reallocate Arts Council funding, possibly defunding a chunk of the arts and artists in the county. There is a petition you can sign, and we are going to find out how people can address this.
In Their Own Words – Group art show at HCC
Countdown Improv Fest
Kelly Buttermore and Matt Walker will be in to talk about this unusual and fun fest. We will be asking listener suggestions for improv! You can write in at [email protected] or text in to 813.433.0885 xo
Author Mark Leib ~ Image breaker
What happens when you question every single thing you believe – or don't believe – in?
 Parachute Gallery's Summer School
Jessica Todd and Victoria Alvarez come in to talk about banned books, drag queens, and pushing back.
Tempus Projects'
Like two Sealed copies of Expansions

𝕋𝔼𝕄ℙ𝕌𝕊 ℙℝ𝕆𝕁𝔼ℂ𝕋𝕊 is excited to announce the opening of 𝗟𝗜𝗞𝗘 𝗧𝗪𝗢 𝗦𝗘𝗔𝗟𝗘𝗗 𝗖𝗢𝗣𝗜𝗘𝗦 𝗢𝗙 𝗘𝗫𝗣𝗔𝗡𝗦𝗜𝗢𝗡𝗦, a group exhibition that showcases mixtapes from artists such as Hildebrando Bellizzio, Neil Bender, Ryan Berg, Joe Griffith, Gigi Lage, Jenn Ryann Miller, Justin Myers, Justin Nelson, Ashley Niven, Kym O'Donnell, Anthony Record, Emiliano Settecasi, Ryann Slauson, Brian Taylor, Kay Three, Matthew Drennan Wicks and more.
The exhibition serves as a tribute to the art of mixtapes and their cultural significance. The artists have created a series of works that delve into the mixtape as an object and an analog format for sharing music and self-expression. The exhibit highlights various mixtape components such as the cassette, jcard, case, and curated playlist.
American stage's Disgraced
Rico Gatson: Visible Time at USFCAM
Rico Gatson is a multimedia visual artist whose work explores themes of history, identity, popular culture, and spirituality, through sculpture, painting, video, and public projects. In late May, Gatson will transform the walls of the USF Contemporary Art Museum with a kaleidoscopic, life-size image of Zora Neale Hurston—author, anthropologist, filmmaker, and former Florida resident—while exhibiting important paintings and works on paper, as well as a mini-survey of videos from 2001 to the present. Rico Gatson: Visible Time is curated by Christian Viveros-Fauné, CAM Curator-at-Large and organized by the USF Contemporary Art Museum.
Jobsite Theater's ALICE
 Lab Theater Project
Owen Robertson comes in for LAB Theater Project. They are focused on bringing new artists – from playwrights to actors to directors to designers – into theater, keeping the theater community vibrant.
Shrimpfinity! At fairgrounds created by
the Milagros collective
We will be chatting with artists Felici Asteinza and Joey Fillastre  of the Milagros Collective. They create immersive art among many other things, and have built Shrimpfinity at the Fairgrounds.
Tampa Fringe Fest – May 10-14
Rosemary Orlando for Stageworks theater's Talking with…
4/7 Kirk Ke Wang ~ Snow in September
at HCC Galleries, Dale Mabry Campus
Coming up: 
March 24 ~ Reclaiming Home: Contemporary Seminole Art at The Ringling with artist Corinne Zepeda.
March 17 – Jobsite Theater's Summer BohnenKamp & David Jenkins in for MISERY.
Double awesome show! First, Eunmi Ko of Camp/Contemporary Art Music Project, and Paula Nunez from the Tampa City Ballet will talk about Campground, composing, choreographing, dancing, moving, all of it!
Then Chad Mize will dial in from spacestpete, which gathers together dozens of killer artists in an undone space. Lots of excitement about this!
March 3 ~ Photographer Águeda Sanfiz: The Other Pandemic
february 17 ~ St Pete Month of Photography ~
with Clara ten Berge and Marieke Van Der Krabben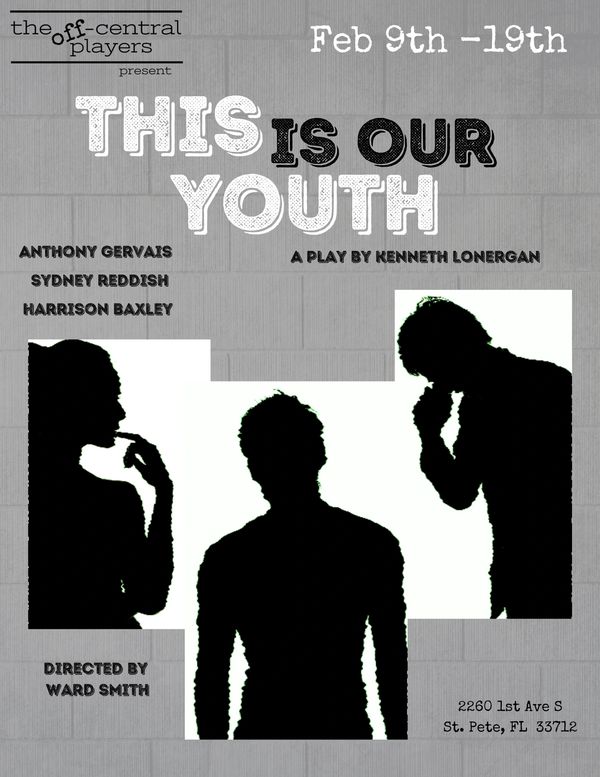 February 3

~

 

This Is Our Youth

 

at Studio G

rand Central
january 27 ~ Tampa Repertory Theatre production of The Elephant Man
Directed by Emilia Sargent, featuring Paul Potenza, Christopher Marshall, and Georgia Mallory Guy.
**********************************
Hosted by
JoEllen Schilke
Follow me on Instagram at @Joschmellen
Thanks so much for listening to Art in Your Ear. This show has been on WMNF in one way or another since the early 80s. The art world has changed so much locally since then.
If you want to be interactive, we have a Facebook page and holla at me if you want me to know about an art event or have a question.
If you tweet or Instagram and want us to see something, please use #AiYE