Event Hours
(1)
Friday

12:00 pm - 1:00 pm

JoEllen Schilke
Thanks for tuning into Art in Your Ear.
We are a weekly interview program, chatting with local, regional, national, and supersonic creative makers of things and ideas. We have a freeform playlist.
To get in touch, please email [email protected].
This week: Arts2Action & VETERAN COMMUNITY OPEN MIC CELEBRATION
Art2Action's Artistic Director Andrea Assaf and playwright Linda Parris-Bailey will be in to talk about the Veteran Community Open Mic and so much more.
Past shows:
Dr. Julie Buckner Armstrong & Learning from Birmingham
Happy to welcome Julie back to Art in Your Ear. 'As goes Birmingham, so the nation goes.' the Reverend Fred Shuttlesworth told Dr. Martin Luther King Jr. Her new book, Learning from Birmingham, explores all the crossroads of history, personal and public; civil rights and alt rights; what we see and what we miss. If you want a preview of what we are going to chat about, here are a few posts she did while she was researching Birmingham.  Holley's art, Civil Rights Trail, and Bombingham. Julie will be chatting with Eric Deggans at Tombolo Books on Wednesday, September 6. Her birthday!
We also will be speaking with Hillsborough County Commissioner Pat Kemp about the current proposal to reallocate Arts Council funding, possibly defunding a chunk of the arts and artists in the county. There is a petition you can sign, and we are going to find out how people can address this.
In Their Own Words – Group art show at HCC
Countdown Improv Fest
Kelly Buttermore and Matt Walker will be in to talk about this unusual and fun fest. We will be asking listener suggestions for improv! You can write in at [email protected] or text in to 813.433.0885 xo
Thank you everyone for supporting Art in Your Ear!
Author Mark Leib ~ Image breaker
What happens when you question every single thing you believe – or don't believe – in? 
 Parachute Gallery's Summer School
Jessica Todd and Victoria Alvarez come in to talk about banned books, drag queens, and pushing back. 
Coming up:  TBA
Tempus Projects'
Like two Sealed copies of Expansions

𝕋𝔼𝕄ℙ𝕌𝕊 ℙℝ𝕆𝕁𝔼ℂ𝕋𝕊 is excited to announce the opening of 𝗟𝗜𝗞𝗘 𝗧𝗪𝗢 𝗦𝗘𝗔𝗟𝗘𝗗 𝗖𝗢𝗣𝗜𝗘𝗦 𝗢𝗙 𝗘𝗫𝗣𝗔𝗡𝗦𝗜𝗢𝗡𝗦, a group exhibition that showcases mixtapes from artists such as Hildebrando Bellizzio, Neil Bender, Ryan Berg, Joe Griffith, Gigi Lage, Jenn Ryann Miller, Justin Myers, Justin Nelson, Ashley Niven, Kym O'Donnell, Anthony Record, Emiliano Settecasi, Ryann Slauson, Brian Taylor, Kay Three, Matthew Drennan Wicks and more.
The exhibition serves as a tribute to the art of mixtapes and their cultural significance. The artists have created a series of works that delve into the mixtape as an object and an analog format for sharing music and self-expression. The exhibit highlights various mixtape components such as the cassette, jcard, case, and curated playlist.
American stage's Disgraced
Rico Gatson: Visible Time at USFCAM
Rico Gatson is a multimedia visual artist whose work explores themes of history, identity, popular culture, and spirituality, through sculpture, painting, video, and public projects. In late May, Gatson will transform the walls of the USF Contemporary Art Museum with a kaleidoscopic, life-size image of Zora Neale Hurston—author, anthropologist, filmmaker, and former Florida resident—while exhibiting important paintings and works on paper, as well as a mini-survey of videos from 2001 to the present. Rico Gatson: Visible Time is curated by Christian Viveros-Fauné, CAM Curator-at-Large and organized by the USF Contemporary Art Museum.
Jobsite Theater's ALICE
 Lab Theater Project
Owen Robertson comes in for LAB Theater Project. They are focused on bringing new artists – from playwrights to actors to directors to designers – into theater, keeping the theater community vibrant. 
Shrimpfinity! At fairgrounds created by
the Milagros collective
We will be chatting with artists Felici Asteinza and Joey Fillastre  of the Milagros Collective. They create immersive art among many other things, and have built Shrimpfinity at the Fairgrounds. 
Tampa Fringe Fest – May 10-14
Rosemary Orlando for Stageworks theater's Talking with… 
4/7 Kirk Ke Wang ~ Snow in September
at HCC Galleries, Dale Mabry Campus
Coming up: 
March 24 ~ Reclaiming Home: Contemporary Seminole Art at The Ringling with artist Corinne Zepeda.
March 17 – Jobsite Theater's Summer BohnenKamp & David Jenkins in for MISERY.
Double awesome show! First, Eunmi Ko of Camp/Contemporary Art Music Project, and Paula Nunez from the Tampa City Ballet will talk about Campground, composing, choreographing, dancing, moving, all of it! 
Then Chad Mize will dial in from spacestpete, which gathers together dozens of killer artists in an undone space. Lots of excitement about this!
March 3 ~ Photographer Águeda Sanfiz: The Other Pandemic
february 17 ~ St Pete Month of Photography ~
with Clara ten Berge and Marieke Van Der Krabben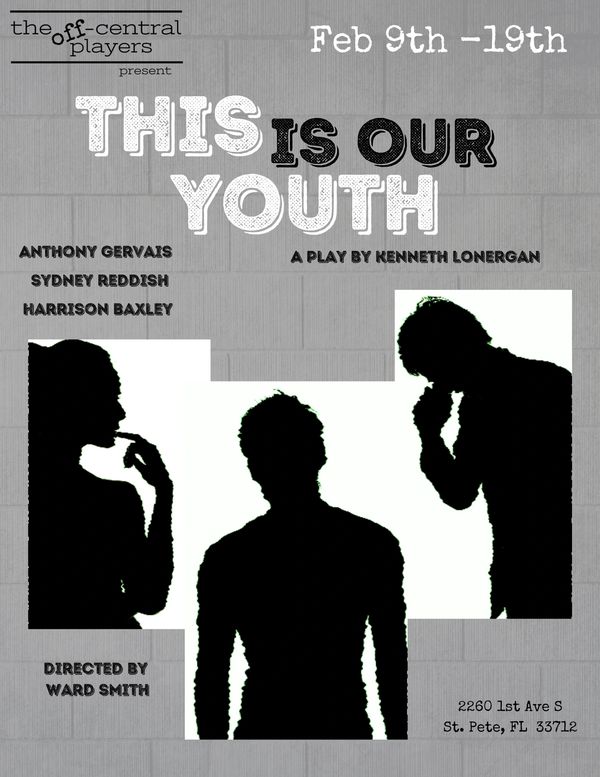 February 3

~

 

This Is Our Youth

 

at Studio G

rand Central
january 27 ~ Tampa Repertory Theatre production of The Elephant Man
Directed by Emilia Sargent, featuring Paul Potenza, Christopher Marshall, and Georgia Mallory Guy.
Hamlet at Jobsite Theater
Hunters Point by Peter Kageyama 
Today's guest is author Peter Kageyama. His first novel, Hunters Point, is being released 1/17. It's not his first book by far. Known locally and nationally for his books about cities, he wrote Hunters Point during the pandemic. 
Hunters Point wraps together many threads. It's a thriller with a Nisei (二世) or second generation Japanese American detective, and all that entails. It's an environmental mystery, a look at San Francisco nearing the end of the Eisenhower era, as the beats and the mafia shape the city. It's a fun read. 
Peter has a few readings coming up. 
Edward Hopper and Guy Pène du Bois Paint Modern American Life at the Polk Museum of Art 
"Creating an exhibition featuring the works of Hopper and Pène du Bois has long been a dream for the museum, and we are thrilled finally to unveil this exceptional exhibition, four years in the making, to our community," said Dr. H. Alexander Rich, executive director and chief curator of the Polk Museum of Art. "Hopper and Pène du Bois were among the most respected names in American art of the last century, and, while Hopper remains far better known to the public today, our exhibition brings both artists importantly to the fore, looking at their work, lives, and careers in tandem."
The Shape of dreams At the Dali
Tune in for a conversation with Dali Executive Director Dr. Hank Hines about the new intriguing exhibition at the Dali Museum, The Shape of Dreams. It explores through art the concepts of dreams through time and place, spanning centuries, and ending with cutting edge AI art making everyone can play with. 
Thank you!
Past Program! ~ St Pete History Museum 

Executive Director Rui Farias chatted about the many exciting things going on for St. Pete's very own history museum, celebrating it's 100th birthday this year. SPHM will be not only archiving life in St Pete but will be archiving its art history as well. It really is the party museum of St. Pete, and its expansion will include a giant art installation by Ya La'Ford. They have a fundraiser at the Shuffleboard Courts on September 24th too. 
Past shows!
We played a bunch of music for you! Also chatted with Jennifer Meksraitis about art donations to the Equality Florida gala. If you are interested, please email [email protected].
We chatted with artist Gio Swaby about her show at the MFA, the joy and pain within the show, and how Fresh Up is a fantastic complement. "Swaby's work is anchored in a desire to present and celebrate the complex personalities of the sitters. Interested in restorative forms of resistance, she has stated, "My work operates in the context of understanding love as liberation, a healing, and restorative force. These pieces celebrate personal style, strength, beauty, individuality, and imperfections."  
Tune in for the discussion about this powerful and disturbing play.  
Earlier this month
Chatted with Susan Gore of the LGBTQ Resource Center about their new international survey of art opening next week. ArtOut: Queering the Pandemic has both digital and analog presences. What a range of art! There will be a great discussion on 6/4 at the Gulfport Library, SPEAK OUT, exploring identity and art. The library is at 5501 28th Ave S. xo 
Losing All Control
Conor Collins
Earlier…
Wordier than Thou has everything piled into this week! The Tampa Bay Publishing Conference is this Friday and Saturday. Out of the Pages, a family reading event with drag performers on Sunday, and Welcome to DRAGWARTS 2, yes a Harry Potter Drag & Burlesque show, is Thursday night.  Tiffany Razzano, founder of WTT, will chat with us about why all of this is needed and fun and how much we just love writing. 
Last week…
We chatted with artist Lucia Riffel about her solo animation/digital art show opening up at Tempus Projects, The Eternal Present. Tracy Midulla of Tempus and Chrissy Brimmage from Dashboard joined the conversation. 
Past Shows
Maureen McDole chatted about all of the wonderful stuff happening at the returning Sun Lit Festival. A whole weekend focused on reading and writing!
Artist Janet Echelman is in town to jury the Gasparilla Art Festival. She will be chatting about Bending Arc, her sculpture at St. Pete's Pier. Last night she adjusted the colors to honor Ukraine. 
last Week!
Activist/Author/Artist Adam Fortunate Eagle and Curator Emily Kapes of the James Museum will chat about their amazing exhibit, Away From Home: American Indian Boarding School Stories. 
Last Friday:
THANK YOU! WE WENT OVER OUR GOAL!
I LOVE LOVE LOVE LOVE YOU!
American Stage is coming in with their amazing play, School Girls, or the African Mean Girls Play
Previously:
Suzanne Williamson & Robin O'Dell chat about the stunning new show of Suzanne's work at the Florida Museum of Photographic Arts


earlier…
Emilia Sargent of Tampa Repertory Theater and Georgia Mallory Guy of ThinkTank TYA chatted with us about their unusual and super smart collaboration, taking place at Stageworks Theater November 19-December 19. They have two shows in repertory, which means they switch back and forth. They're sharing sets, and even some actors. The shows are The Curious Incident of the Dog in the Nighttime and The Giver, both based on novels, and both smart shows for young people and up. Listen back on our fancy player to the right!
Earlier
She will have her ceramics there for the first time!
THANK YOU TO EVERYONE WHO DONATED! WE STILL NEED YOUR $$ THOUGH TO MAKE THE GOAL!
FUND DRIVE AHOY!


Art in Your Ear has to do our part in keeping

the station financially healthy. Would you please pledge through that tip jar over there, whatever you can afford. We will have some fun arts skulls for you as thank you presents, or a cool t-shirt. THANK YOU!!!!
This week's show is shine shine shine
Here is a SHINE 7 ART EXHIBIT ARTISTS1 SHINE 2021 Map.
We will be chatting with Ya La'ford and Chad Mize, as they bring new elements to Shine. Chad has an opening at Mize Gallery Friday night. There will be a big reveal of Ya's piece on Saturday night.
Last Week
We chatted with Deb Carson about her new book, Becoming Flo, a Mostly True Story.
Past shows! 
Earlier…
Andrea Assaf always does fantastic work that is thoughtful and stays with you. We talked about her work, Eleven Reflections on September; the new award winning digital film version; the return of the Veterans Open Poetry Mic; and Eleven Reflections on the Nation. 
8/27/21 show
We chatted with Carrie Boucher, mainly about the many programs and the absolute GLORY of Nomad Art Bus, but also about Spacecraft and its residency in Walter Fuller Park.
There are two large art projects getting ready to open on both sides of Tampa Bay.
Fairgrounds in St. Pete and Crab Devil in Tampa. Fascinating that the timing and culture is blooming these at the same time. Here are their introductory videos. 
First, Fairgrounds
Now Crab Devil

(in love with this song!)
We announced that Spacecraft was making and playing in a park;
There is a real VIBE at Mize Gallery; 
And Tampa Museum of Art has a ton of sweet shows right now.
Last week:
From The Studio @ 620's site:

The Green Book of Tampa Bay is a Black-owned business directory that serves Pinellas and Hillsborough county. We help people who are concerned with inequity in their community be intentional with how they spend their dollars. Along with promoting Black-owned businesses, the directory promotes Black artists as well as historical and cultural sites.
Below is Blueprint to Forever, by Fabstraq
We are going to have a massive conversation about finding pathways through art, transforming places, how things get done. You know, the stuff at the intersection of our lives.
Last Week…
Bridget Bean & James Rayfield crash the titanic once again at the Tampa Fringe Festival!

Art in YOUR Ear Raised $1,800 on our way to $2,000! 
THANK YOU SO MUCH! Feel free to kick in towards that last $200 pretty please. xoxoxo
Last week's show featured Mark Mothersbaugh, Beatie Wolfe, and Jade Dellinger with…
*


Here's a peek at our new shirt designed by Ya La'ford!
We did a soundtrack inspired by Summer of Soul!
This is lovely
Talking about their show at Gallery 221 at HCC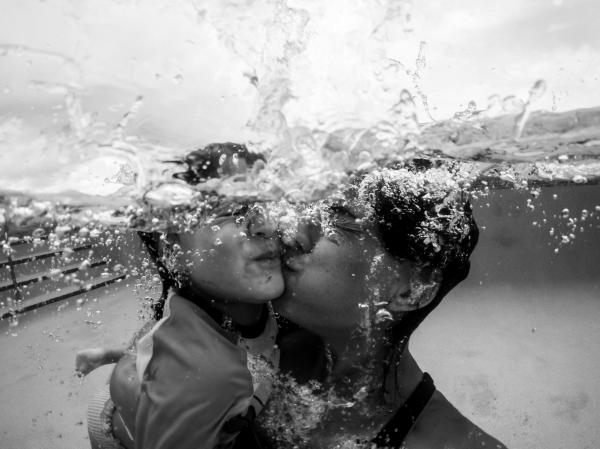 We will be chatting with photographer Agueda Sanfiz and Zora Carrier, Director of the FMoPA.
Thank you, Todd Bates, for designing our new shirt!
A couple weeks ago we chatted with Neil & Gianna Gobioff about the ARTIST RELIEF FUND & ARTSPACE!
vvbfep
YOU Are wonderful glorious mesmerizing heoroes!!!! I love you!!!!!
Follow us on Facebook pretty please. We put info about guests, but so much more. Grants, jobs, music, fun stuff, important matters, and occasionally dog pictures. 
A few weeks ago…
Producer Lea Umburger and Writer/Director John Alexander with their new documentary about Sharon Preston-Folta, Louis Armstrong's secret child.
And here is a lovely photo by the legendary Clyde Butcher
*************************************************************************************************************