Event Hours
(1)
Friday

1:00 pm - 2:00 pm

Survey of the local arts scene with JoEllen Schilke.
Today we are chatting with Barbara St. Clair
of Creative Pinellas about a T.O.N. of stuff!
A couple weeks ago we chatted with Neil & Gianna Gobioff
about the ARTIST RELIEF FUND & ARTSPACE!
vvbfep
YOU Are wonderful glorious mesmerizing heoroes!!!!
I love you!!!!!
Recently…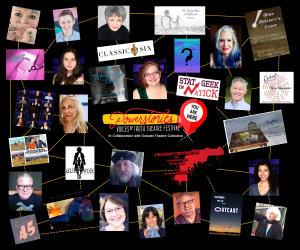 We will be chatted with Powerstories, which is putting on the Voices of Truth Festival in a collaboration with Outcast Theatre Collective. 
Follow us on Facebook pretty please. We put info about guests, but so much more. Grants, jobs, music, fun stuff, important matters, and occasionally dog pictures. 
A few weeks ago…
Producer Lea Umburger and Writer/Director John Alexander with their new documentary about Sharon Preston-Folta, Louis Armstrong's secret child.
And here is a lovely photo by the legendary Clyde Butcher
*************************************************************************************************************